The LiveWires with new line-up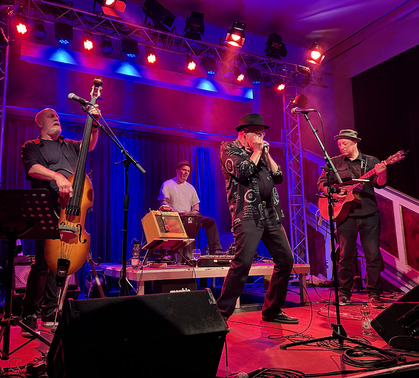 Since autumn 2022 Steve Baker & the LiveWires have been playing in a new line-up with Jeff Walker on upright bass & backing vocals and Robert Carl Blank on guitar and backing vocals. Whenever possible they are joined by master percussionist Yogi Jokusch.
The current incarnation of the LiveWires shows that Steve's musical journey is clearly far from over. In addition to tracks from his previous two solo albums, the band also performs recently recorded material written during the pandemic, due to be released in autumn 2023 under the title "Too Much Is Never Enough". The combination of harmonica, guitar, upright bass, percussion and three-part vocal harmonies creates a gripping and rhythmically sophisticated band sound with surprising depth. Dense soundscapes alternate with airy openness and the sparse arrangements show a great feel for dynamics. Baker and his fellow musicians cover a broad stylistic spectrum, ranging from folk and blues to funk and acoustic rock, while his instantly recognizable harmonica style, funky, melodic and elegant, provides a perfect foil to his voice, always in the service of the tune. The songs radiate attitude and strike a deeply personal note that reflects our turbulent times.