Damn Good Run - The Best of Chris Jones & Steve Baker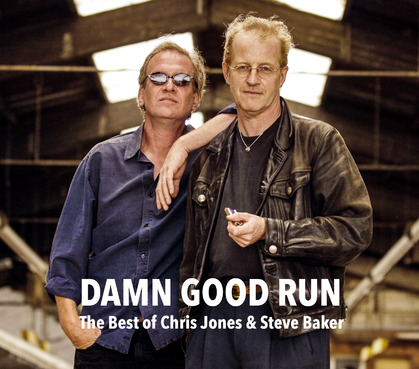 For over 10 years, Chris Jones and Steve Baker were one of the most exciting acoustic duo acts in Europe. The combination of Jones' exquisite guitar and vocal work with Baker's unmistakeable harp playing was simply unique. With Damn Good Run, Acoustic Music Records pays tribute to their thrilling duo partnership. The best songs from ten unforgettable years together. Fourteen tunes from four albums. The guitar icon and the harmonica legend were soul brothers, whose deep friendship and intuitive musical understanding were ended only by Jones' tragically early death in September 2005.
Chris Jones was undoubtedly one of the finest and most in-demand acoustic guitarists in Europe. He recorded and performed with a wide range of international artists including Allen Taylor, Sara K, Steve Strauss and Reinhard Mey. But his unique grasp of the folk and blues idiom found its ideal partner in Steve Baker, whose rhythmically driving, subtly accented and emotionally intense harmonica offered the perfect complement to the guitarist's sensitive slide work, pumping grooves, beautifully constructed songs and highly entertaining stories. A tribute to two great musicans and their mutual love of music!
http://www.acoustic-music.de/epages/63090349.sf/en_GB/?ObjectPath=/Shops/63090349/Products/319.1603.2