Blues Harp App for iPad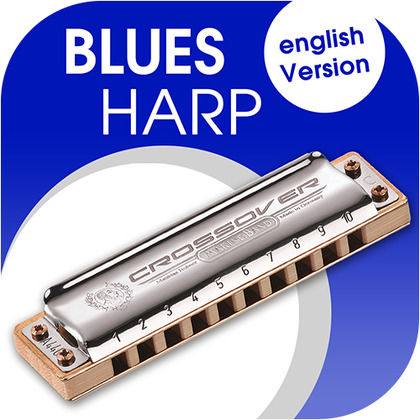 11 great sounding backing tracks composed and recorded by Steve Baker guarantee maximum playing enjoyment. BLUES HARP contains lots of music, from a soul ballad and an afrofunk-track to some punk and reggae sounds but also boogie, swing, rockabilly and of course: the blues! These pieces were originally published as Volume 3 of Steve's Blues Harmonica Playalongs series, but the exceptionally user friendly presentation as an iPad app makes using them far easier and much more fun!
On 57 pages BLUES HARP consists of:
â–ª 11 playalongs plus Steve's original versions including harp
â–ª 6 practice tracks
â–ª 32 zoomable graphics
This App combines, for the first time, functionality, arrangement and handling of all required features. Different media and hardware are no longer necessary. Optimized design for iPad in HD, with many useful additional features. After downloading, all features are available. Internet access is not required, except for social media-channels or Wikipedia.
LIST OF FEATURES
â–ª optimized, auto-scrolling sheet music
â–ª integrated tuner - easy to operate
â–ª playalong mode with real band
â–ª demotrack mode to listen to or play along
â–ª play-alone practice mode
â–ª acoustic metronome in three different sounds
â–ª optical metronome
â–ª combined acoustic and optical metronome
â–ª selectable tempo between 20 and 240 bpm
â–ª adjustable beginning of the practice tracks with open and direct choice of tempo
â–ª turn-off mode for count-in
â–ª easy to handle TOC
â–ª scroll-bar for quick browsing
â–ª book mark option
â–ª pop-up graphics and exercises with metronome and drum tracks
â–ª Wikipedia links for additional information
â–ª direct access to the "artist ahead apps" Facebook profile and YouTube channel
â–ª direct access to your Facebook / Twitter account
â–ª direct access to your Email client
â–ª direct access to your Dropbox – share video- and sound-files with your teacher
Connect your iPad to your stereo unit or amp and off you go!
Connecting to bigger monitors, projectors or whiteboard, for teaching purposes, is of course possible. Appropriate adapters are available in specialist shops.
BLUES HARP© is a registered trade mark of Matth. Hohner AG.

Photos
Please click on a photo to download.