Steve Baker Bio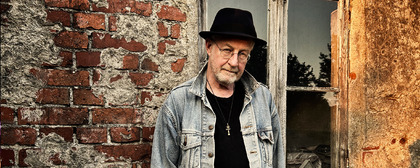 Few musicians can claim to have made their living from and with the harmonica for the past four decades; even fewer have had such a formative influence on the development of their instrument, or played such a significant role in defining how it is taught. Steve Baker is definitely one of them. He has influenced a generation of younger players and is often regarded as one of those musicians who have revitalized the instrument in Europe, and as one of its leading exponents worldwide.
Born and raised in London, England, he has for many years lived near Hamburg, Germany and has been a full time professional since 1975. Steve has developed an instantly recognizable and highly musical style which is both expressive and lyrical, charactierized by his subtle, rhythmically accented phrasing. His unique sound draws on the blues harmonica tradition and combines it with elements from country, folk, funk, soul and jazz to create an exciting and individual fusion, with an emotional intensity which finds its way straight to the hearts of his listeners.
Joe Filisko says:
"When Steve Baker plays, I listen! He is my favorite European harp player and one of the most powerful and moving melodic players that I have ever heard, with tone to boot. He can lay it out sweet and serene or vicious and nasty, always keeping me on the edge of my seat, deeply enthralled by the creativity of his music."
Ever since 1990, Steve Baker has appeared regularly with German blues legend Abi Wallenstein, with whom he has released a total of six CDs. Until the latter's untimely death in autumn 2005, Steve performed and recorded as a duo with guitarist/songwriter extraordinaire Chris Jones. Jones and Baker released four critically acclaimed CDs together on Acoustic Music Records and toured in Australia, Poland, Russia and the USA as well as in western Europe. In July 2019 the label released a compilation CD "Damn Good Run - The Best of Chris Jones & Steve Baker" (AMR 319.1603), featuring songs from all four earler albums and showing how well they have stood the test of time.
After a 40 year career as a sideman, Steve released his first solo album in February 2018. Perfect Getaway (Timezone Records, TZ 1473) shows the harmonica ace in a new role as singer, songwriter and arranger, accompanied by a great band with Kai Strauss (guitar), Gaz (bass), Alex Lex (drums) and Chris Rannenberg (piano). The album features 14 original tunes ranging from singer/songwriter, blues, country, gospel and rock'n'roll to crunching rock and provides a convincing demonstration of his willingness to explore new directions. Since then he has been performing this material live and writing more songs. In summer 2019 he recorded the follow-up album The Great Divide (TZ 1884, release March 2020) with his cross-generational band The LiveWires featuring Jan Mohr (guitar), Jeff Walker (bass & backing vocals), Henri Jerratsch (drums) and Gina Baker (backing vocals). Together they have already performed over 50 concerts, creating an exciting and unusual band sound with a clear identity of its own, and underlining the fact that Baker's musical journey is by no means over yet.
Steve has made hundreds of recordings as a studio musician in Germany and beyond and can be heard on a wide variety of CD, film and TV productions. Since 1987 he has worked as a consultant for the worldwide leader in harmonica manufacture, HOHNER and was closely involved in the revival of the legendary Marine Band series through the development of several successful new models, including the Marine Bands Deluxe, Crossover and Thunderbird, restoring the status of this benchmark instrument as a flagship brand.
A highly regarded author of harmonica literature, Steve has written a number of instructional books. "The Harp Handbook" (Music Sales), first published in 1990 and now in its 4th edition, is still considered the standard work on the diatonic harp and has been referred to as the "harmonica player's bible". Between 2000 and 2007 he published a three volume series "Blues Harmonica Playalongs", composing and recording a total of 34 harmonica instrumentals in a wide range of blues and related styles. He also wrote the successful beginners' book/CD package "Step By Step", which has appeared in a total of five languages.
Alongside these activities, Steve has presented numerous HOHNER Blues Harp Workshops in music stores in many different countries and is one of the most active figures in harmonica education in Europe. He has been closely involved in the organisation of the World Harmonica Festival in Trossingen from its inception in 1989 until the present day. In 2003 he initiated the Harmonica Masters Workshops in Trossingen, home of the HOHNER production facilities in Germany. Steve is musical director and also teaches a class at this event, which has come to be regarded as the premier educational event for contemporary harmonica in Europe, with a staff of world renowned instructors including Joe Filisko and David Barrett. www.harmonica-masters.de
In recognition of his longstanding work in the service of the harmonica, Steve Baker was presented with the Pete Pedersen Lifetime Achievement Award by the American SPAH Association in summer 2019.