Steve Baker Bandshop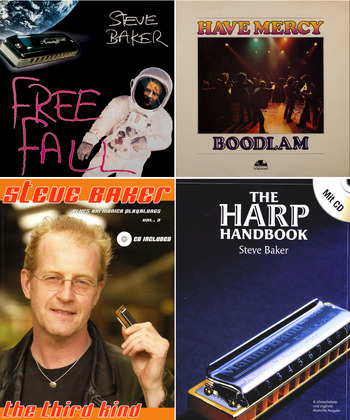 The English language editions of Steve Baker's seminal publications "The Harp Handbook" and "Blues Harmonica Playalongs Vols. 1 - 3", as well as his recent solo albums and other vintage audio re-releases, are finally available online from his Bandshop on the Timezone Records website: https://timezone-records.shop/en/pages/stevebaker
The three volumes of Blues Harmonica Playalongs (digital downloads w. PDF + mp3 files) feature a total of 34 of Steve's original compositions, each as a full version plus playback, recorded with a great band and aimed at harp players looking for practice material in a variety of blues and related styles. The books contain transcriptions in notation and tabs, as well as detailed descriptions and practising tips. The only product of its kind to provide this level of information in combination with great original tunes and top quality backing tracks.
The Harp Handbook was first published in 1990 and is still referred to as the "harmonica player's bible". Praised as "Excellent! The first real book about the diatonic harmonica" by jazz virtuoso and two-time Grammy Award winner Howard Levy, Steve Baker's insights have subsequently been adopted by countless later authors and teachers. Book + CD.
In addition to his two recent solo albums with Timezone Records, Perfect Getaway (2018) and The Great Divide (2020), Steve's Bandshop also offers two previously unavailable vintage re-releases as digital downloads:
The Free Fall Sessions, a collection of original pop harmonica instrumental compositions, recorded with top Hamburg studio musicians. Three of these tunes were released on a 12" maxi single in 1986, but the remaining six titles are now available here for the very first time,
and
Boodlam, the debut LP from Steve's first band Have Mercy, which also featured Henry Heggen, Rory McLeod, Brian Barnett, Dick Bird and Jon Echols, and was the only band ever to regularly employ three or more diatonic blues harps at the same time. Recorded in Hamburg in February 1977 shortly after they first arrived there, this album perfectly captures the unique combination of manic energy and excellent musicianship which made Have Mercy an instant hit on the German blues and folk scene. Now available again here for the first time in over 40 years.