CD Release: Steve Baker - Too Much Is Never Enough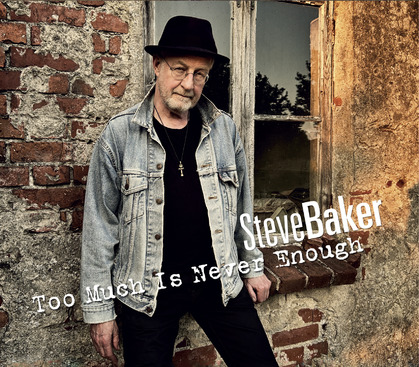 For his third solo album Too Much Is Never Enough (Timezone Records TZ2491) Steve Baker returns to his folk roots with a collection of mainly acoustic tunes, most of which were written during the pandemic. The new songs were recorded by Uli Kringler in MCE Studio 3 with Steve on lead vocal and harmonica, and feature Jeff Walker on upright bass & vocals, Robert Carl Blank on guitar & vocals, Heinz Lichius on drums and Yogi Jockusch on percussion. Uli contributed additional guitar parts and Stefan Stoppok plays waldzither on two tracks. The album was mastered at Pauler Acoustics by Hans-Jörg Mauksch.
The sound is reduced to essentials, a gripping and rhythmically sophisticated combination of sparse instrumentation and three-part vocal harmonies. The band plays with great dynamics and the sound ranges from airy openness to dense richness. Steve uses his instantly recognisable harp style to create elegantly crafted solo passages, always in the service of the song. This makes for an exciting, powerful and appealing overall sound that perfectly supports his haunting lyricism.
Baker's new compositions radiate attitude. He makes no bones about his convictions, with a collection of deeply personal songs that both reflect and comment on our turbulent times. There's a certain similarity to the work of colleagues such as Billy Bragg. With the exception of Bob Dylan's "I Dreamed I Saw Saint Augustine", all songs are originals. With Too Much Is Never Enough, Steve Baker presents his most uncompromising work to date.
Available here from 25.08.2023:
https://timezone-records.com/en/collections/steve-baker/products/steve-baker-too-much-is-never-enough
Poison Chalice
Bad Blood
I Dreamed I Saw St. Augustine
Charles Delondes Ghost
Take Me For A Fool
Distant Shore
Too Broken To Mend
Fools Paradise
Terminal Road
Gina's Lullaby
All titles M&T Steve Baker except St Augustine (Bob Dylan)