Album Release: Steve Baker & the LiveWires - The Great Divide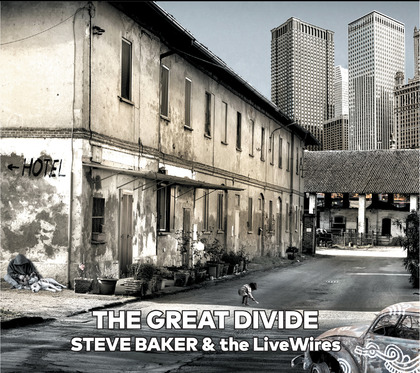 The Great Divide (Timezone Records CD TZ1884, LP TZ1931): Steve Baker releases a new solo album, recorded in Hamburg with his band the LiveWires.
With his second solo release "The Great Divide" (Timezone Records CD TZ1884, LP TZ1931), Steve delivers an uncompromising set of new material. Featuring 11 new originals as well as a riveting cover of Dylan's "This Wheel's On Fire", the album was recorded in Hamburg's Chefrock Studios with Steve's regular band the LiveWires. Ranging from rocking British beat to songwriter to dark subterranean new age blues, his songs of life, love and the pursuit of happiness in the age of lies radiate attitude and strike a deeply personal note which echos our troubled times. The Great Divide is clearly a band album, the sparse arrangements and general tightness reflect the numerous live concerts they have played together in the course of the past two years. Though the emphasis is on the songs rather than the harmonica, Steve's immediately recognizable harp playing lends a unifying quality which adds the final touch to his timeless compositions. Also available in a 12" vinyl edition!
Available here: https://TimezoneRecords.lnk.to/thegreatdivide