Playalongs Vol. 3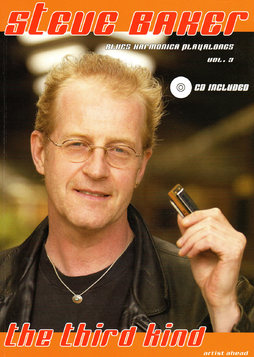 Songs zum Anhören
File is loading...
THE THIRD KIND – BLUES HARMONICA PLAYALONGS, VOL. 3 (Book & CD)
Artist Ahead, 2007 Steve Baker – ISBN 978-3-936807-83-7
The English edition of the book/CD package was published in February 2007. The 3rd and final volume of Steve's Blues Harmonica Playalongs explores a wider range of styles than its predecessors - alongside blues numbers it also contains material such as reggae, Afrofunk, punk and soul which lies somewhat outside the usual stylistic boundaries for traditional harp. For the first time, the book offers complete transcriptions of the tunes including all solos as well as detailed descriptions of all titles and practising tips

These book / CD packages fill a big gap in existing harmonica literature and are among the first publications of this kind specifically written for contemporary diatonic harmonica. They have been enthusiatically received by the harmonica community and offer the student a unique opportunity to learn directly from one of today?s leading players.