Steve Baker & the LiveWires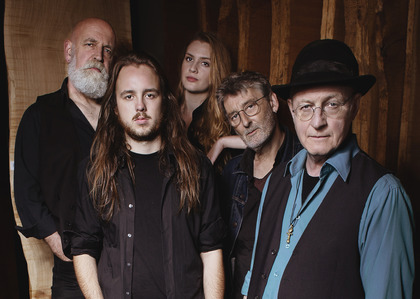 Steve Baker & the LiveWires
Steve Baker - harmonica, vocals
Jan Mohr - guitar
Jeff Walker - bass, backing vocals
Henri Jerratsch - drums
Gina Baker - backing vocals
New album "The Great Divide", due for release in March 2020, Timezone Records TZ 1884
Steve Baker has long been well known as an innovative and versatile pioneer on the harmonica. In his lengthy career as a sideman, he has worked with a wide range of artists including first generation rock&roller Tony Sheridan, the late great Chris Jones and European blues legend Abi Wallenstein. He also enjoys an international reputation as author of groundbreaking harmonica literature, teacher, studio musician and long term consultant to the Hohner company.
In February 2018 Steve released Perfect Getaway, his first solo album of original songs, stepping beyond the role of accompanist to reinvent himself as a singer, songwriter and bandleader. His catchy original compositions reflect the diverse musical influences which he has absorbed over the years and demonstrate a stylistic bandwidth which ranges from singer/songwriter to country, gospel, blues, funk, rock'n'roll and rock. With his 2nd solo album "The Great Divide", he shifts up a gear, making clear that his musical journey is far from over yet. The 11 self-penned titles (plus one cover), recorded in Hamburg's Chefrock Studios with his tight, cross-generational band project Steve Baker & the LiveWires, provide an impressive demonstration of just how much his vocal and songwriting skills have gained in finesse over the past two years.
His well crafted songs radiate attitude and conviction and cover a broad stylistic spectrum which ranges effortlessly from British Beat to funky New Orleans groove, from crunching rock to dark blues-tinged contemporary sounds. The compact, sparsely arranged band sound, augmented by lush backing vocals, provides the ideal accompaniment for Baker's timeless original compositions. His umistakeable harp, always in the service of the song, adds the finishing touch!
Booking: Nico Baker Artist Management
Email: artists@nicobaker.com
www.nicobaker.com
Tel.: +49 (0)5198 1219