New Live CD with Dave Goodman, Steve Baker & Oliver Spanuth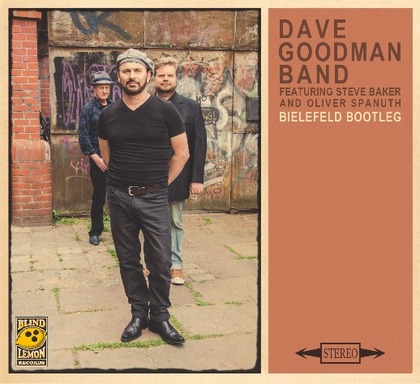 On October 17th 2014 we played to a packed house at the Bielefeld Jazz Club. Unbeknown to us, our friend Christoph Bockermann recorded the whole show on a hand-held digital recorder in stereo using just two room microphones. He played some of it back to us after the gig and we were so pleased that we decided on the spot to use the recording as the basis for a live CD. Thomas Schleiken has now kindly released it on his label Blind Lemon Records.
The Bielefeld Bootleg comes about as close to the experience of attending one of our concerts as you can get without actually being there. With no frills or overdubs, it succeeds in capturing the magic, spontaneity and flashes of inspiration that characterize a great live gig. We're really happy to be able to present fans and friends with a recording which documents how things have progressed in the course of the past four years.
Dave Goodman - guitar. lead vocal
Steve Baker - harmonica, backing vocal, lead vocal Nobody's Fool
Oliver Spanuth - drums & percussion
BLR-CD 1602
1. She's Gone
2. Georgia Lee
3. Take Out Some Insurance
4. Step It Up
5. Goodbye Gary
6. The Letter
7. Nobody's Fool
8. Maybelline
9. Not Dark Yet
10. Leave It All Behind
11. Side Of The Road