10th European Music Workshops in Le Kleebach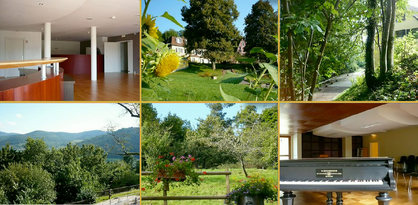 The European Music Workshops, which will be taking place from July 30th - August 5th for the tenth time in the idyllic La Maison du Kleebach, near Munster in Alsace, France, have become one of the most successful workshop events for hobby musicians in Europe. Organised and hosted by Steve Baker (musical director) and Robert Koch (logisitics), the focus is on handmade music with acoustic instruments. The combination of top class instructors, an ideal location with French flair, and great value for money, makes for an event which is habit-forming in the best sense of the word and brings numerous lovers of acoustic music back for more, year after year. The appeal has always been international from the very beginning, with participants hailing from numerous different European countries, but word seems to have gotten around and students also attend from Australia and the USA. With around 65 registrations, last year's workshops were fully booked.
La Maison du Kleebach is situated on a hillside, looking out over the picturesque landscape of the Vosges. The building has been fully renovated as a seminar house, with 70 beds, five well equipped teaching rooms (three with piano) and an open air stage, Meals (continental breakfast, 3 course lunch and dinner menus including wine) are prepared on the premises by the house chef, using fresh locally sourced produce. Parallel classes for harmonica, guitar, percussion and vocals provide the perfect basis for extended sessions in the evenings and there is a lot of jamming until late at night. Students are encouraged to form bands to perform during the first half of the public concert which concludes the event and the instructors support them with tips and band coaching.
All instructors are highly regarded professional musicians with strong teaching skills and years of workshop experience. Harmonica guru Steve Baker is not only a legendary player, but also a pioneer in the field of harmonica education, who has inspired countless younger musicians in the course of a career spanning more than 40 years. Dave Goodman is one of today's most highly regarded acoustic guitarists and songwriters, while his numerous workshops and frequent contributions to magazines such as Acoustic Player underline his status as an educator. Yogi Jockusch holds the no. 1 percussion chair at the Disney Musical Tarzan in Oberhausen, as well as having performed in Lion King, Dirty Dancing, Mamma Mia and many more. He is currently on tour with Achim Reichel and is a regular workshop instructor. Vocal instructor Marie Fofana is a classically trained singer and percussionist who performs and records with cult trio Opportunity and also has extensive experience as a choral director. The team members know exactly how to create a supportive and inclusive atmosphere which brings everyone together.
The European Music Workshops offer participants a unique opportunity to learn from top professional players in an ideal location, to come together with other lovers of handmade music, to jam to their hearts' content and live out their creative impulses. The result is both satisfying and liberating for all concerned, which is probably why so many regular visitors see the event as the highpoint of their summer and keep on coming back year after year, to experience their own creativity afresh as part of a wonderful musical community.
www.european-music-workshops.com

Price from €750,- all inclusive
 for five full days of workshops and supremely relaxed jamming with full board and lodging.
Registrations and more info under www.european-music-workshops.com
The limited contingent of single rooms in La Maison du Kleebach is already fully booked. As in previous years, we have been able to reserve the 15 single rooms of the former presbytery in Gunsbach. The former residence of 1952 Nobel prizewinner Albert Schweitzer is only 5 minutes away by car, the rooms are simple but comfortable, with individual shower and WC. All meals will be taken at La Maison du Kleebach.